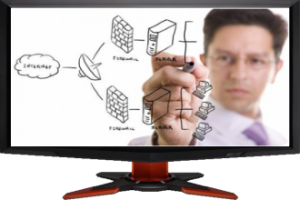 OPENMIND Technologies, has the knowledge and experience you are looking for in a computer consulting company focused on helping small businesses make wise decisions regarding their network.
Here is why.
Successful companies, large and small, rarely make business decisions without a clear goal or plan in place. Business today is fiercely competitive. One wrong move or misallocation of resources could be disastrous. Good, solid, trustworthy advice is more important than ever. When successful companies need to make critical decisions, they seek out those who have delivered proven results.
How We Do Planning
Firstly, we will compile a Comprehensive technology evaluation and recommendations report.
This method is our systematic way of approaching technology decision-making. Ultimately our goal is to give you the information and tools for making thoughtful and appropriate decisions for your business, whether it is network planning, network upgrades, or computer network maintenance.
Your customized Technology Evaluation and Recommendations report will include the following:
1. Documentation of your business goals
2. Documentation of your existing network
3. Evaluation and comparison of your business goals, existing network and industry best practices
4. Technology recommendations for all critical elements of your network based on the evaluation
5. Detailed projected software, hardware and labor budget
6. Detailed reasons, benefits and goals met for each recommendation
7. Prioritization of each recommendation based on importance to achieving your business goals
Which Way is The Best Way?
There are actually many ways to accomplish the same goal. Some are better than others, and one is usually the clear winner. So how do you know which way is right? In business, we call that right way a "Best Practice." Unfortunately for most small businesses, the technology planning and technology consulting they are offered falls far short of Best Practices. They usually get their computer planning from friends, relatives, the local computer mega-store sales person, or someone in their office who is "pretty good" with computers. What they end up with is usually a lot of "budget" computer equipment that doesn't do what they had hoped and seems to have more problems than it should. In short, it becomes an expensive disappointment.
Our adherence to best practices for network planning, as well as our team's expertise in the small business environment, gives us a unique advantage over individuals or companies who are concerned primarily with fixing what is broken or delivering cookie cutter answers instead of implementing the correct solutions for your business goals.
Good Advice from Trusted Professionals
Unlike individual computer consultants, OPENIMIND Technologies is a professional computer consulting company that provides computer consulting services in the areas of computer management and network design. Our computer hardware consultants have the years of expertise, knowledge and systems to help your company go to the next level, assist you with your network planning and network upgrades. It is our goal to assist you in making the right decisions for your office, not to try to "sell you" stuff.
In fact, you can trust that our hardware and software recommendations have your company's best interest in mind. We want to be on the same side of the table as you are in making recommendations that are in your company's best interest and hardware and software recommendations that are not only excellent products but provide excellent service as well.
As small business network experts, with hundreds of successful network projects under our belts, we can provide you with the trusted, industry standard information you need to make good decisions about your server, computers and network. If you are looking for this kind of information please contact us.